This Spicy Green Chutney Is One Of Padma Lakshmi's Favorite Condiments
Rich Fury/Getty Images
Padma Lakshmi, the star of Bravo's "Top Chef," loves chutneys. For Thanksgiving, Lakshmi dished on her sweet and sour chutney, a riff on cranberry sauce. Back in 2007, the celebrity chef and best-selling author shared her grandmother's Kumquat and Ginger Chutney recipe with People, revealing how its satisfying tastes of citrus and ginger made her nostalgic for her youth, saying, "I always remember that chutney from my childhood. I remember the smell of the citrus, I remember the spike of the ginger, the herbaceous curry leaves that would crunch when you bite into them." It sounds like a delicious combination of flavors and textures.
Now the chef has us salivating over her Green Apple and Mint Chutney she shared on Instagram to accompany her red snapper, and the culinary goddess explains that this is one of her favorite condiments. Lakshmi wrote, "I know I say this a lot, but this Green Apple and Mint Chutney is one of my favorite condiments to make. It is bright, refreshing, and spicy." Sounds like our kind of chutney. But what makes this chutney so wonderful that Lakshmi likes to make large quantities of it so she has it on hand in her refrigerator whenever she cooks?
It's versatile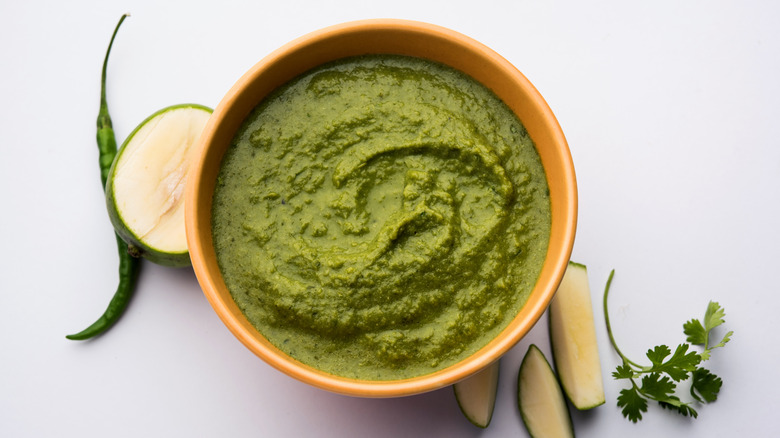 StockImageFactory.com/Shutterstock
First, Lakshmi's gorgeously green chutney uses apples, tomatoes, green chilis, mint, some water, and a little lemon, so it doesn't oxidize. The ingredients alone make it sound beautiful and fresh. But Lakshmi cautions this condiment has an "Achtung baby!" reading on the heat scale, as she iterates in her Instagram video: "This is gonna be spicy!" And since she adds in those green chilis not once, but twice, as she purees it, that warning can't be hyperbole. Lakshmi playfully concludes her post by writing, "Is anyone else's fridge 80% condiments?"
In another post that serves as a full recipe video, the Bravo star discusses the ease of making this taste bud popping condiment, writing, "This recipe is packed with protein and comes together quickly! ... Just whizz all your ingredients in a blender and you have a flavorful sauce that will keep well in an airtight container in the fridge."
She also shares that this condiment goes well with a lot of different foods. Lakshmi wrote, "If you don't have snapper you can use seared shrimp, baked tofu, grilled chicken thighs – whatever you like! Serve over a bowl of warm rice, couscous, or quinoa for a complete meal!" Her followers seem to be all in for this recipe, with one writing: "Adding this recipe to my meal rotation! Looks amazing." While another offered a brilliant idea, suggesting, "Instagram needs to invest in some scratch and sniff tech ... looks amazing." Agreed.